產品描述
MSI 迷你電腦 Cubi 5 12M (12M-012BTW-B31215UXX)
Barebone 準系統
(CS-MCU5I3 + CE-MNBC06U )
產品特點:
Intel Core i3-1215U 六核芯處理器
0.45 升小體積
支援標準VESA安裝,節省空間
Ready For
Various Scenarios
We always focus on how to improve the efficiency, stability and flexibility for users in any kinds of situations.
Small But Powerful
Bring it home when you need without any inconvenience that it can be your mini PC and your portable storage device.
PEACE of MIND
Easy to use and make life simple
SUPPORT UP TO 8K RESOLUTION
Cubi 5 allows you to enjoy the best experience of watching movie with your family or attending online conference call while working from home or learning professional tasks at home.
BOLT TO THE NEXT POWER
Thunderbolt™ 4* brings Thunderbolt to USB-C at speeds up to 40 Gbps, creating one compact port that does it all – delivering the fastest, most versatile connection to any dock, display, or data device & NAS.
Embracing a wide array of interface compatibilities so that you can edit, collaborate and share seamlessly
Up to
40Gbps
Data Transmission Speed
Up to
10GbE
LAN Speed
*With Thunderbolt to 10GbE Switch
Support
USB-C
Protocols
*Actual features may vary by configuration.
SEE MORE, DO MORE
With HDMI, DP, and Thunderbolt 4, Cubi 5 allows you to extend to three monitors to preview your E-commerce content & data at home or in the office, enhancing your efficiency.
MSI Cloud Center
FAST, SECURE & WIRELESS BACKUP
Fast, secure, and wireless backup & download between your PC and mobile devices. Transfer files, photos, videos, and more between your PC, Android, and iOS device faster and easier than a cabled connection. You can make these files accessible to your family or team members, or you can also make files as private as you want. The decision is in your hands.
MSI CENTER
The MSI Center takes optimization to the next level with easily adjustable system modes; it helps to prioritize & allocate the resource on your hand to accelerate the performance of those software which you work with everyday.
* The interface and functionality may differ due to version change. Please download the latest MSI Center APP through Microsoft Store.
Smart Priority
Prioritize your work with Smart Priority
LAN Manager
LAN Manager provides you the best online traffic experience
Smart Image Finder
Easily organize and find your pictures with Smart Image Finder
Up to
Core i7-1255U
Processor
Support
Windows 11 Pro
Up to 3200MHz
64GB
Dual Channel Memory
*SPEC varies by model.
STABLE & POWERFUL
Equips up to 12th Gen Intel® Core™ i7 processor with 10 cores and 12 threads, delivering computing capability and keeping you in the flow, wherever you go. Also, enjoy more detailed, immersive viewing experience with Intel® Iris® Xe Graphics.
Up to
3x
Faster Gigabit Speeds
Up to
75%
Lower Latency
Support
MU-MIMO
Protocols
*SPEC varies by model.
WI-FI 6E TECHNOLOGY
Wi-Fi 6E puts more emphasis on transmission security and improves the signal between the interference problem can also be connected to more devices at the same time, thereby meeting the trend of higher and higher data transmission bandwidth requirements with speed up to 2.4Gbps.
USB 3.2 GEN 2 Type A
With data transfer speeds up to 10Gbps, dual USB 3.2 Gen 2 Type A ports in the front I/O offer twice the bandwidth of the older USB 3.1 Gen 1 Type A ports, effectively halving any data delay or waiting time.
Private Cloud
DUAL LAN - SECURITY
More than Dual LAN, the best way to secure your data and prevent the Hacker
Dual Lan
ALWAYS BE YOUR BACKUP
With the Dual LAN Design, the Cubi 5 will always be your backup and support the Internet/Intranet dual network environments.
CREATE THROUGH THE 2.5G LAN
Working on NAS? Connect and rapidly transfer data over a network with the high-bandwidth and low-latency 2.5Gbps Ethernet LAN. Integrated with the exclusive MSI LAN Manager, it prioritizes latency-sensitive application and allows you to take control of their experience.
Next
FW TPM SUPPORT
FW TPM (Trusted Platform Module) technology is designed to provide hardware-based, security-related functions. You can store your sensitive data & passwords by encryption keys for advanced security.
EASY MAINTENANCE
Users can easily upgrade two SO-DIMM, one M.2 SSD or one 2.5" HDD/SSD by disassembling the cover. Made Cubi 5 an even flexible desktop and also reduce the time wasting on upgrading.
Spec varies by model.
VESA MOUNT SUPPORT
VESA Mountable design allows users to hook Cubi 5 up anywhere you like or mount it with MSI PRO MP243 Series . Not only improve the flexibility of using Cubi 5, but also let users make good use of their space at home or at office.
VARIOUS IO PORTS
With a complete array of I/O ports, it can connect all devices you need and connect many devices at the same time so you can multi-task with those devises to make you work more efficiently and of course you won't need an adaptor or a dock.
1. 1x Mic-in / Headphone-out combo
2. 2x USB 3.2 Gen 2 Type A
3. 1x ThunderBolt 4 (USB Type-C)
4. 1x HDMI out (2.0b)
5. 1x DP out(1.4)
6. 2x RJ45
7. 2x USB 3.2 Gen 2 Type A
8. DC Jack
Successful & Stylish B2B projects
Over the past years, MSI has successfully supported Countless of commercial projects, including government tenders, restaurant & hotel facilitation, shopping mall navigation projects, school & university developments and professional office projects.
Find more details about many of these projects on:
https://www.msi.com/pro-projects/global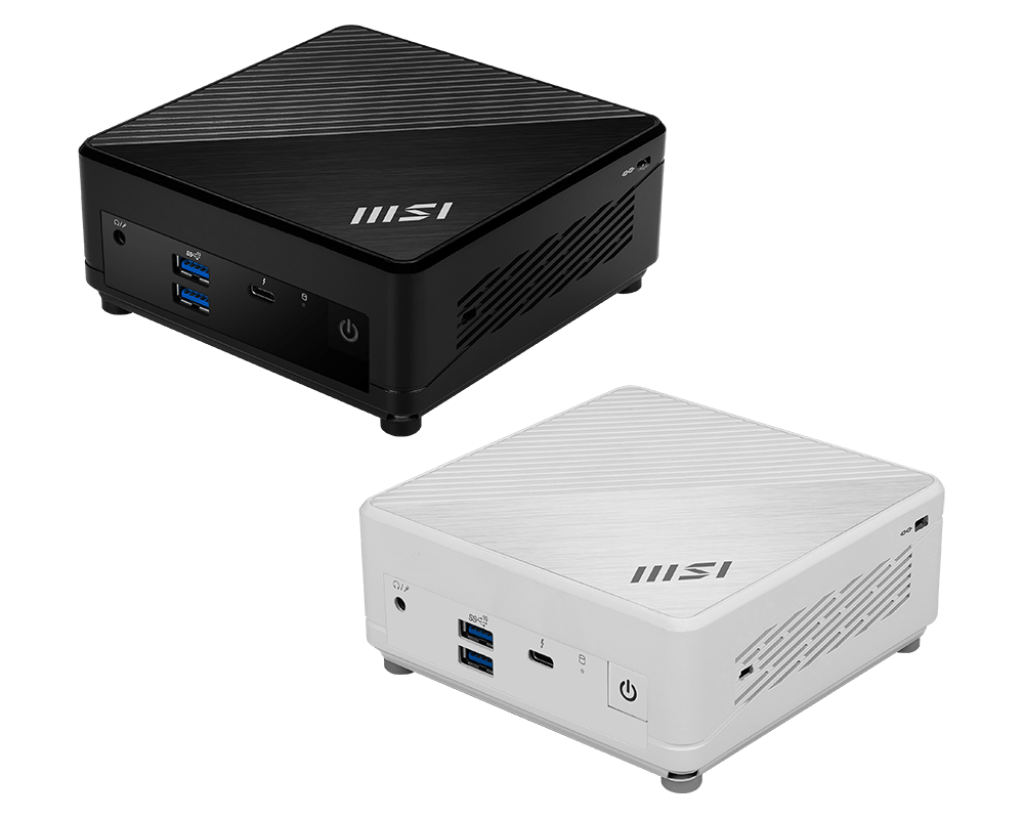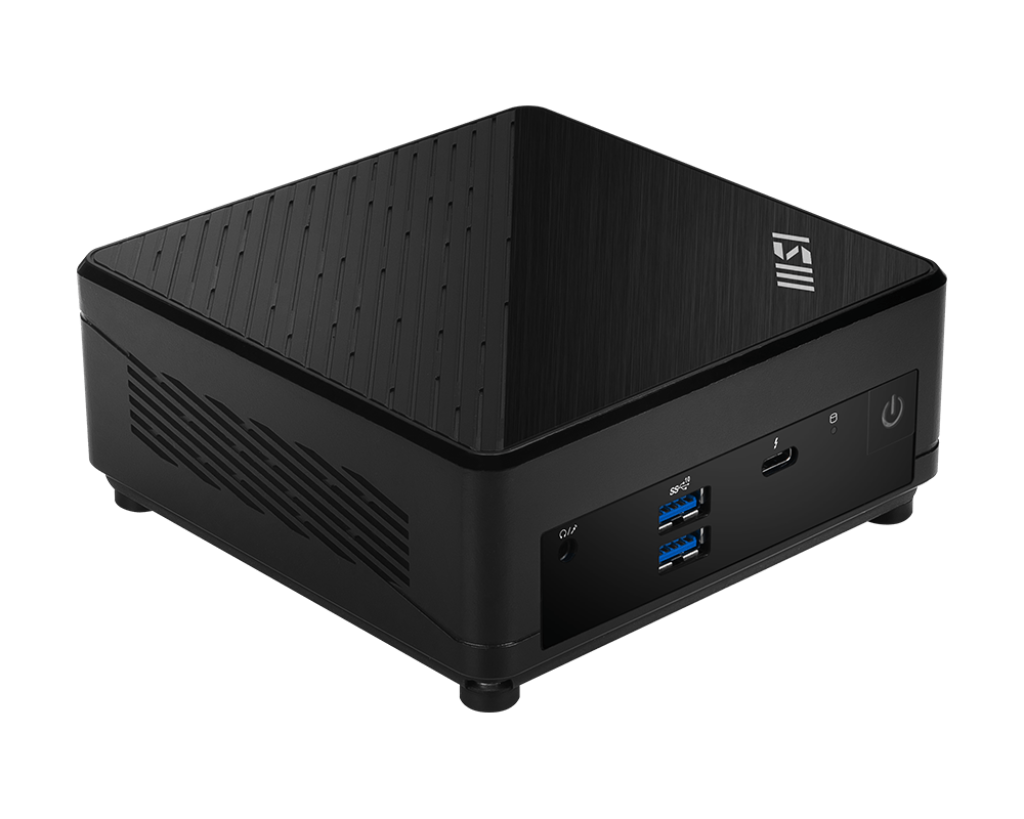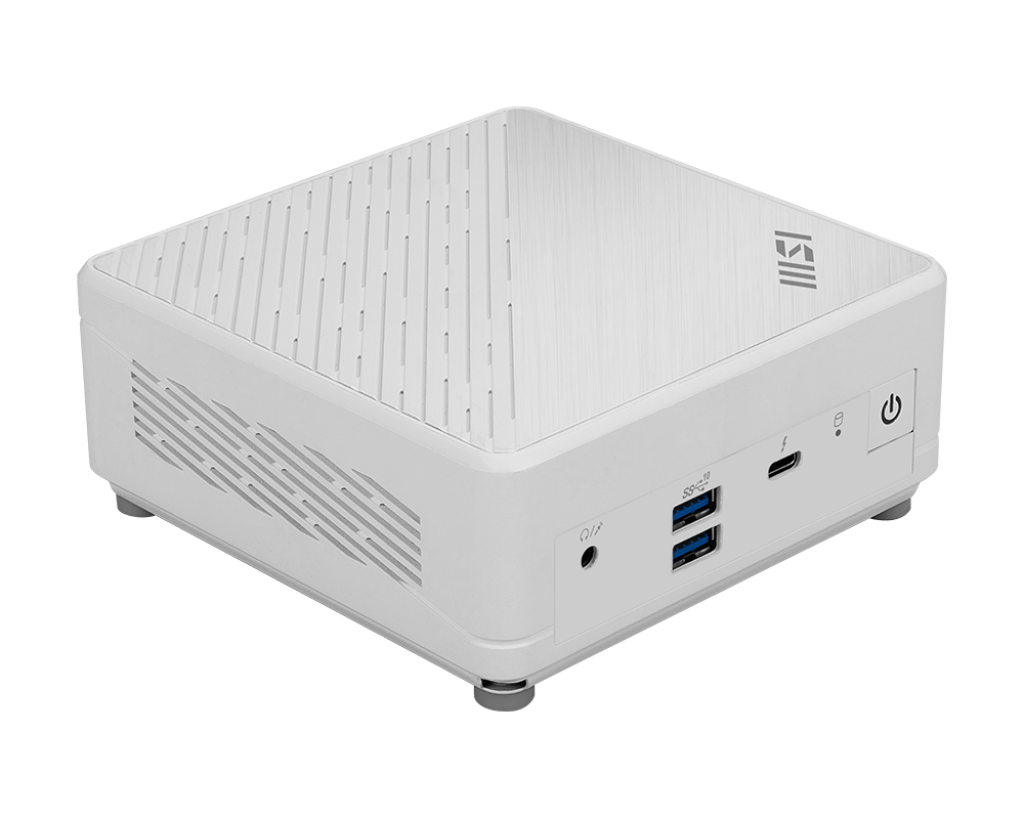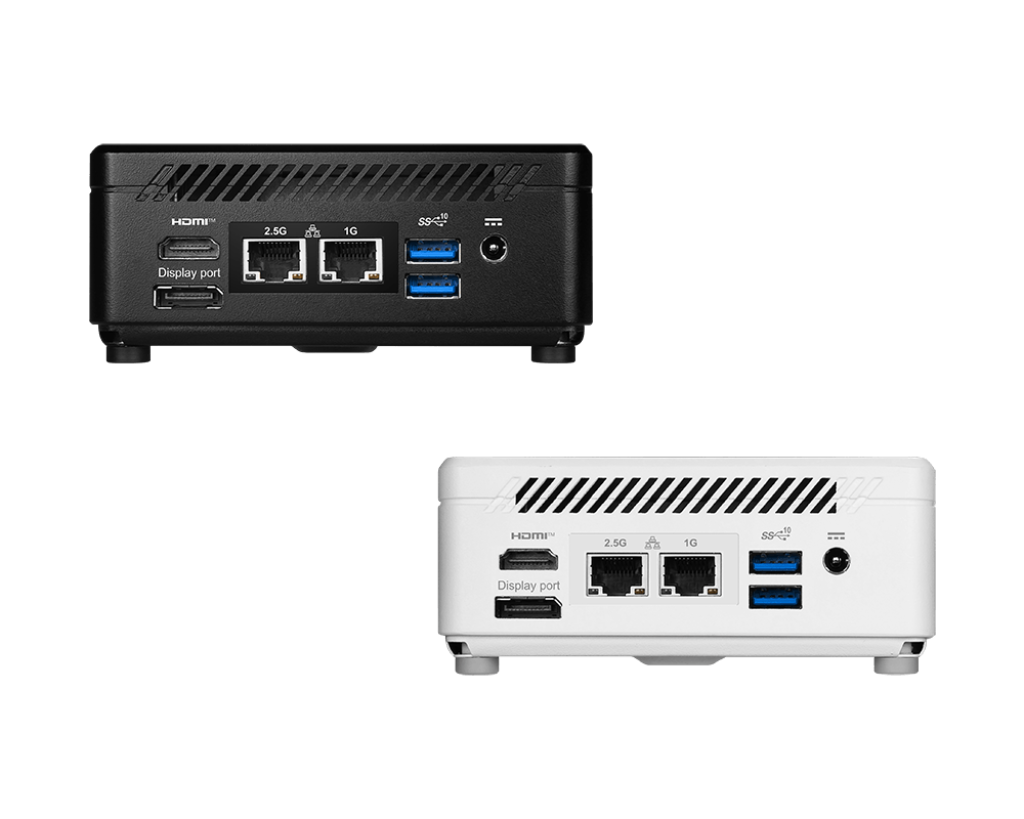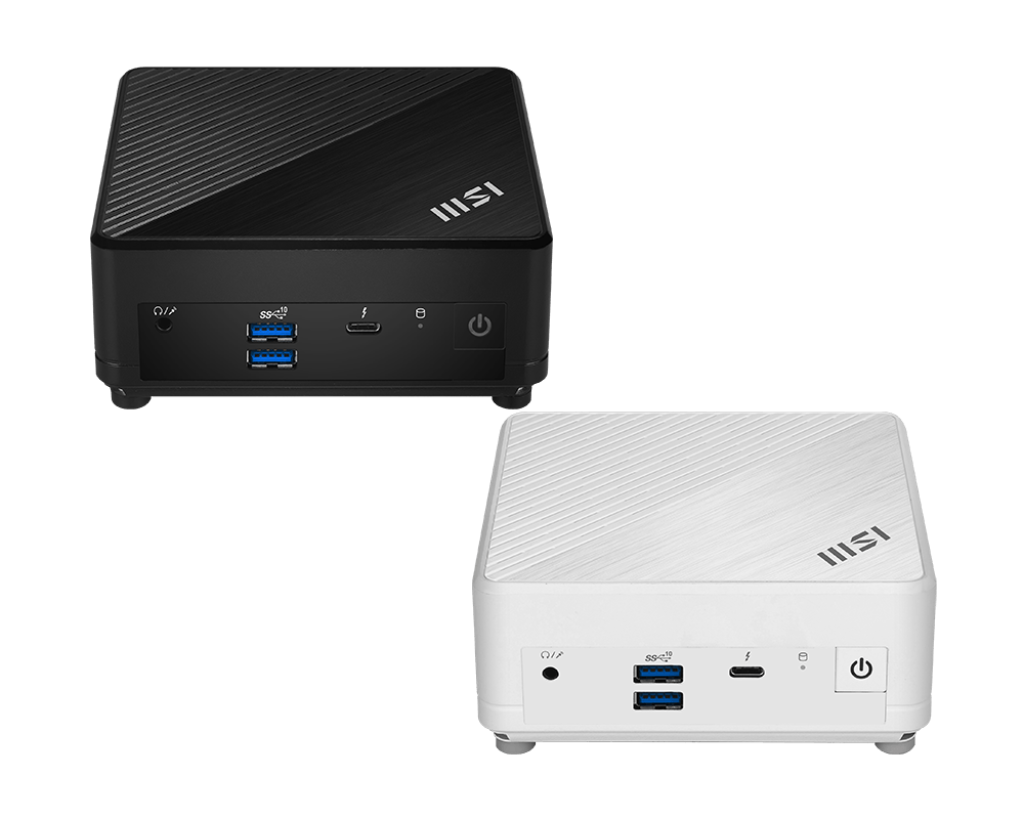 Windows 11 Home
- MSI recommends Windows 11 Pro for business
Up to 12th Gen Intel® Core™ i7 Processors
Support up to 8K UHD Display
Support three displays that allow you to see more and do more
Thunderbolt 4 delivers the fastest, most versatile connection to any dock, display, or data device & NAS
Dual LAN: the best way to back up your file / secure data and prevent the hacker (with MSI exclusive BIOS)
Get all the performance benefits from USB 3.2 Gen 2 and enjoy the best data transmission experience
Experience 75% lower latency with WiFi 6E technology(optional)
FW TPM design secures your confidential data with encryption keys
Supports standard VESA-mount